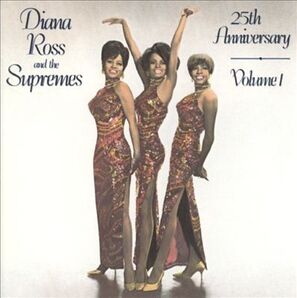 25th Anniversary is a two-disc\triple LP compliation album released by Diana Ross & the Supremes.
The album was released on October 14, 1986 by Motown Records.
The first disc (Volume 1) contains the group's hits songs such as "Baby Love," "You Can't Hurry Love" & "Where Did Our Love Go."
The second disc (Volume 2) contains unreleased material from 1961-1968.
Tracklisting
Edit
Volume 1
Where Did Our Love Go (2:32)
Baby Love (2:36)
Come See About Me (2:42)
Stop! In the Name of Love (2:51)
Back in My Arms Again (2:51)
I Hear A Symphony (2:42)
You Can't Hurry Love (2:44)
You Keep Me Hangin' On (2:41)
Love is Here and Now You're Gone (2:45)
The Happening (2:47)
Love Child (2:55)
Someday We'll Be Together (3:27)
I'm Gonna Make You Love Me (feat. The Temptations) (3:06)
When the Lovelight Starts Shining Through His Eyes (3:02)
Nothing But Heartaches (2:57)
My World is Empty Without You (2:33)
Love is Like an Itching in My Heart (2:52)
Reflections (2:52)
In and Out of Love (2:39)
I'm Living in Shame (2:59)
Forever Came Today (3:12)
Some Things You Can Never Get Used To (2:24)
The Composer (2:57)
No Matter What Sign You Are (2:46)
Volume 2
The Blue Room (2:22)
Manhattan (3:05)
If I Ruled the World (2:44)
Who Can I Turn To (When Nobody Needs Me) (2:18)
Someday My Prince Will Come (2:46)
Sleep Walk (2:56)
When You Wish Upon a Star (3:14)
Are You Sure Love is the Name of This Game (2:28)
Treat Me Nice John Henry (2:35)
Come On and See Me (2:10)
Penny Pincher (2:20)
It's All Your Fault (2:35)
Oowee Baby (2:58)
Send Me No Flowers (2:24)
Come On Boy (2:54)
Heigh-Ho (3:02)
Those D.J. Shows (2:34)
Sincerely (3:34)
Surfer Boy (2:35)
Beach Ball (2:44)
Heaven Must Have Sent You (3:17)
Just a Little Misunderstanding (2:19)
Coca-Cola Commercial (#1) (0:45) (note: the track contains special lyrics to "When the Lovelight Starts Shining Through His Eyes")
Coca-Cola Commercial (#2) (0:41) (note: the track contains special lyrics to "Baby Love")
Supremes' Interview (5:38)
We Couldn't Get Along Without You (2:33) (note: the track contains special lyrics to "My World is Empty Without You")
Album Personnel
Edit
Artwork By [Art Direction]: Johnny Lee
Artwork By [Cd Design]: Ian Campbell
Artwork By [Design]: Janet Levinson
Engineer [Re-engineered By]: Bob Robitaille
Mastered By [Digitally Re-mastered By]: John Matousek
Other [Compiled For Compact Disc By]: Robert Robitaille, Russ Terrana
Other [Conceived], Reissue Producer [Produced For Reissue By]: John Silva
Other [Diana Ross And The Supremes Story Text By]: J. Randy Taraborrelli
Photography [Front Cover Photo]: James J. Kriegsmann
Photography [Tinting]: Dennis Keeley