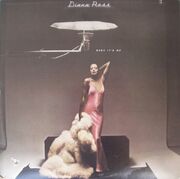 Baby It's Me is the 7th solo studio album by Diana Ross. The album was released on September 16, 1977 by Motown Records.
The album was produced by Richard Perry. Diana would continue to work with him (including on her pairing with international vocalist, Julio Iglesias on their international smash duet, "All of You" several years later).
Tracklisting
Edit
Side A
Gettin' Ready for Love (2:45)
You Got It (3:55)
Baby It's Me (3:09)
Too Shy to Say (3:15)
Your Love is So Good For Me (4:14)
Side B
Top of the World (3:06)
All Night Lover (3:33)
Confide In Me (3:32)
The Same Love That Made Me Laugh (3:56)
Come in From the Rain (3:50)
Chart Performance
Edit
"Baby It's Me" peaked at #18 on the Billboard 200 and #7 on Billboard's R&B Albums chart. Although the album never made the charts in the United Kingdom, it was certified Silver for UK sales in excess of 60,000 copies.
Critical Reception
Edit
Rolling Stone magazine gave the album a positive review.
Album Personnel
Edit
Diana Ross - Vocals
James Newton Howard - Keyboards
Tom Scott - Saxophone
Bud Shank - Flute
David Foster - Horn
Clydie King - Vocals
Gene Page - Strings
Tom Snow - Piano
Bobbye Hall - Percussion
Jack Ashford - Percussion
Ben Benay - Guitar
Patti Brooks - Vocals
Ollie E. Brown - Drums
Lenny Castro - Percussion
Donald "Duck" Dunn - Bass
Scott Edwards - Bass
Chuck Findley - Horn
Bryan Garofalo - Bass
Ed Greene - Drums
Richard Hewson - Strings
Jim Horn - Horn
David Hungate - Bass
Bobby Kimball - Vocals
Becky Lewis - Vocals
Steve Lukather - Guitar
Ira Newborn - Guitar, Harmonica
Del Newman - Strings
Michael Omartian - Keyboards
David Paich - Keyboards, Vocals
Jeff Porcaro - Drums
Ray Parker, Jr. - Bass, Guitar
Ken Peterson - Synthesizer
Petsye Powell - Vocals
Lee Ritenour - Guitar
Stanley Schwartz - Piano
Rick Shlosser - Drums
Richie Zito - Guitar
Sherlie Matthews - Vocals