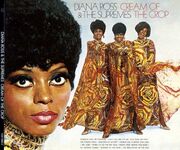 "Cream of the Crop" is the title of a 1969 album recorded by "Diana Ross & the Supremes" for the Motown label. This LP holds the distinction of being The Supremes' final studio album of new material to feature lead singer Diana Ross.
The album was released in November 1969, after the release and rising success of the hit single "Someday We'll Be Together."
As "Someday" had originally been slated to be released as Diana Ross' first solo single, neither Wilson nor Birdsong appear as vocalists on the single.
Instead, Ross was backed on the recording by Johnny Bristol and session singers Maxine and Julia Waters.
Motown chief Berry Gordy appended the Supremes billing to the single so as to create more publicity for Ross' exit from the group.
Another selection of note is "The Young Folks" the charting b-side of "No Matter What Sign You Are" from Let the Sunshine In, later covered by The Jackson 5.
The album also includes covers of songs by The Beatles ("Hey Jude") and Bob Dylan ("Blowin' in the Wind", also covered by Stevie Wonder).
Since another Ross-led Supremes single or album had not been planned, Cream of the Crop was made up mostly of vaulted material.
The album closer, "The Beginning of the End", features Motown artist Syreeta Wright alongside Ross and Supremes members Mary Wilson and Cindy Birdsong.
Syreeta was Berry Gordy's original choice to replace Ross in the Supremes, because she had a range and tone similar to Ross.
However, Gordy and Supremes manager Shelly Berger decided instead to replace Ross with Jean Terrell after seeing Terrell perform with her brother Ernie as part of their band, Ernie Terrell & the Knockouts.
Tracklist
Edit
"Someday We'll Be Together"
"Can't You See It's Me"
"You Gave Me Love"
"Hey Jude"
"The Young Folks"
"Shadows of Society"
"Loving You Is Better Than Ever"
"When It's To The Top (Still I Won't Stop Giving You Love)"
"'Til Johnny Comes"
"Blowin' In The Wind"
"The Beginning of The End"
Personnel
Edit
Diana Ross - Lead vocals
Mary Wilson - Background vocals
Cindy Birdsong - Background vocals
Florence Ballard - Background vocals ("Blowin' In The Wind")
Syreeta Wright - Background vocals ("The Beginning of The End")
Julia Waters - Background vocals ("Someday We'll Be Together")
Maxine Waters - Background vocals ("Someday We'll Be Together")
Johnny Bristol - Background vocals ("Someday We'll Be Together")
The Andantes - Background vocals
The Funk Brothers - instrumentation
Various Los Angeles area session musicians - instrumentation
Chart History
Edit
| | | | |
| --- | --- | --- | --- |
| Album | U.S. Pop Albums | U.S. R&B Albums | U.K. Pop Albums |
| "Cream of The Crop" | #33 | #3 | #34 |
| | | | | |
| --- | --- | --- | --- | --- |
| Singles | U.S. Pop Singles | U.S. R&B Singles | U.S. Adult Contemporary Singles | U.K. Pop Singles |
| "Someday We'll Be Together" | #1 | #1 | #12 | #13 |
| "The Young Folks" (b-side of "No Matter What Sign You Are") | #69 | | | |