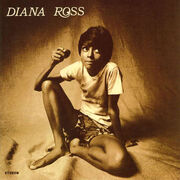 Diana Ross is the debut album by Diana Ross. It was released on June 19, 1970 by Motown Records.
The album was the ultimate test to see if she could make it as a solo act. With the help of the songwriting-producing team of Nickolas Ashford & Valerie Simpson, Diana turned out a successful album.
Diana did extensive work with other producers before settling with Ashford & Simpson, including Johnny Bristol (who produced her final single with The Supremes "Someday We'll Be Together").
Tracklisting
Edit
Side A
Now That There's You (3:27)
You're All I Need to Get By (3:24)
These Things Will Keep Me Loving You (3:06)
Side B
Something On My Mind (2:24)
I Wouldn't Change the Man He Is (3:15)
Keep An Eye (3:12)
Where There Was Darkness (3:12)
Can't It Wait Until Tomorrow (3:12)
Dark Side of the World (3:08)
Chart Performance
Edit
Name
Chart (1970)
Peak
position
Diana Ross
Billboard 200
19
[U.S. Billboard R&B Albums Chart
1
UK Albums Chart
14