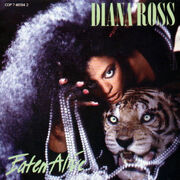 Eaten Alive is the 15th solo album by Diana Ross. The album was released on September 24, 1985 by RCA Records.
Album Background
Edit
The album was primarily conceived by Barry Gibb (who had co-written and co-produced successful albums for Barbra Streisand, Dionne Warwick and Kenny Rogers) earlier that decade.
Most of the tracks were co-written by Barry Gibb and at least one of his other siblings even though some were written by all members of the Bee Gees.
Tracklisting
Edit
Side A
Eaten Alive (3:50)
Oh Teacher (3:37)
Experience (4:54)
Chain Reaction (3:47)
More and More (3:05)
Side B
I'm Watching You (3:50)
Love on the Line (4:19)
(I Love) Being in Love With You (4:31)
Crime of Passion (3:31)
Don't Give Up On Each Other (3:45)
Chart Performance
Edit
"Eaten Alive" was released on the RCA label in the United States where it was deemed a commercial failure, selling less than 300,000 copies.
The album peaked at #45 on the Billboard 200 and #27 on Billboard's R&B Albums chart.
It fared better internationally as an EMI (which is co-founded by RCA) label release to which Diana had been signed directly since 1981 (though her relationship with EMI dates back to the beginning of her international career since they distributed Motown releases).
Album Personnel
Edit
John J. Barnes - keyboards
George Bitzer - keyboards, synthesizer, piano
Nathan East - bass
Don Felder - guitar
Michael Fisher - percussion
Stephen Gadd - drums
Albhy Galuten - synthesizer, arranger
Gary E. Grant - horn
Jerry Hey - horn
James Newton Howard - keyboards, synthesizer
Kim S. Hutchcroft - saxophone
Paul Leim - drums
Greg Phillinganes - synthesizer
Bill Reichenbach Jr. (credited as Bill Reichenbach) - horn
Tom Scott - saxophone
George Terry - guitar
Larry Williams - keyboard
Diana Ross - lead vocals
Barry Gibb - backing vocals, guitar, arranger
Michael Jackson - backing vocals on "Eaten Alive"
Bruce Albertine - backing vocals
Myrna Matthews - backing vocals
Marti McCall - backing vocals
Ad blocker interference detected!
Wikia is a free-to-use site that makes money from advertising. We have a modified experience for viewers using ad blockers

Wikia is not accessible if you've made further modifications. Remove the custom ad blocker rule(s) and the page will load as expected.