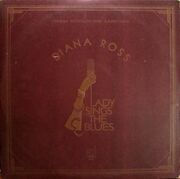 Lady Sings the Blues is the 1972 movie soundtrack to the Billie Holiday biopic "Lady Sings the Blues" starring Diana Ross in her debut acting role.
Tracklisting
Edit
Side 1
The Arrest (0:15)
Lady Sings the Blues (1:03)
Baltimore Brothel (0:25)
Billie Sneaks into Dean and Dean's\Swinging Uptown (0:49)
'Taint Nobody's Bizness If I Do (1:06)
Big Ben\C.C. Rider (1:06)
All of Me (2:19)
The Man I Love (2:27)
Them There Eyes (1:03)
Gardenias from Louis (2:03)
Cafe Manhattan\Had You Been Around\Love Theme (2:03)
Side 2
Any Happy Home (0:37)
I Cried for You (0:37)
Billie and Harry\Don't Explain (0:37)
Mean to Me (1:18)
Fine and Mellow (0:45)
What a Little Moonlight Can Do (2:09)
Louis Visits Billie on Tour\Love Theme (0:45)
Cafe Manhattan Party (1:37)
Persuasion\'Taint Nobody's Bizness If I Do (3:48)
Agent's Office (1:09)
Our Love is Here to Stay (2:01)
Side 3
Fine and Mellow (2:54)
Lover Man (3:22)
You've Changed (2:34)
Gimme a Pigfoot (And a Bottle of Beer) (2:06)
Good Morning Heartache (2:21)
All of Me (2:04)
Side 4
Love Theme (2:53)
My Man (2:26)
Don't Explain (2:10)
I Cried For You (2:13)
Strange Fruit (3:35)
God Bless the Child (2:42)
Closing Theme (1:08)
Chart Performance
Edit
The album went on to be Diana's 4th number-one album (though the only one as a solo artist on the U.S. Top 200 Billboard Albums Chart as a solo act), #2 on the U.S. Billboard R&B Album Chart and #50 on the UK Albums Chart.