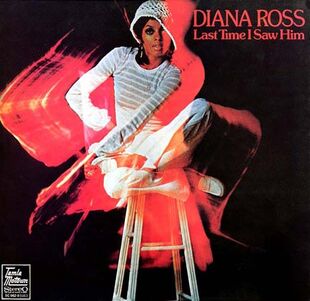 Last Time I Saw Him is Diana Ross' 5th solo album. The album was released on December 6, 1973.
Tracklisting
Edit
Last Time I Saw Him (2:50)
No One's Gonna Be A Fool Forever (3:24)
Love Me (2:56)
Sleepin' (4:41)
You (4:19)
Turn Around (2:28)
When Will I Come Home To You (3:14)
I Heard a Love Song (But You Never Made a Sound) (2:32)
Stone Liberty (2:59)
Behind Closed Doors (2:46)
The album yielded the title track single "Last Time I Saw Him," a multi-format hit that reached #1 (for three weeks) on the Billboard Hot Adult Contemporary, #14 on the Hot 100 and #15 on the Hot Soul singles.
It peaked at #9 Pop on the Top 100 lists for both Cashbox and Record World as well as #10 in Radio & Records. It also reached #35 in the United Kingdom.
The song was a bit of a musical departure for Diana with a sound combining country with Dixieland jazz. Shortly after its release, it was remade by country music star Dottie West who scored success with the single on the C&W charts, reaching #8.
"Sleepin'" was the second U.S. single, but despite a vocal performance that had shades of Billie Holiday, only reached #70 Pop and #50 R&B.
In the U.K., the chosen 2nd single was the ballad "Love Me" (#38) whose lyrics were replete with double entendres.
Chart Performance
Edit
The album had a disappointing chart run, reaching #52 on the Billboard 200 and would be the last studio album Diana issued in the next three years until 1976.