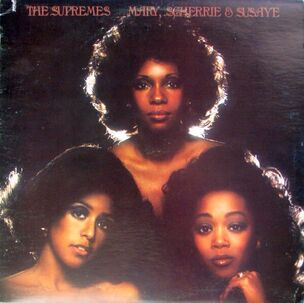 Mary, Scherrie & Susaye is the final Supremes album. It was released in October of 1976 by Motown Records.
The album featured the Supremes' final line-up: Mary Wilson, Scherrie Payne and Susaye Greene.
Album Background
Edit
All three Supremes take leads on the album. The album was a mixture of disco dance tracks and R&B ballads. Payne and Greene mostly took over the dance tracks while Wilson performed the ballads.
The album was released nine months before the trio disbanded.
On May 17, 2011, the entire album was released for the first time on CD on the three-disc set "Let Yourself Go: The '70s Albums, Vol 2 – 1974–1977: The Final Sessions."
Tracklisting
Edit
Chart Performance
Edit
Album Personnel
Edit
Ad blocker interference detected!
Wikia is a free-to-use site that makes money from advertising. We have a modified experience for viewers using ad blockers

Wikia is not accessible if you've made further modifications. Remove the custom ad blocker rule(s) and the page will load as expected.