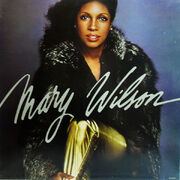 Mary Wilson is Mary Wilson's self-titled debut solo album.
The album was released in August of 1979 by Motown Records & produced by Hal Davis.
Album Background
Edit
The album was Mary's first album recorded after she left the last line-up of the Supremes which included herself, Scherrie Payne and Susaye Greene.
The group had released their 29th & last studio album "Mary, Scherrie & Susaye" in October of 1976 (nine months before they officially disbanded).
In June of 1977, Mary decided to leave the group (who was the manager by Mary's then-husband Pedro Ferrer at the time).
Prior to Mary's husband becoming the manager of the group, Mary & Berry Gordy got into an argument backstage at the Frontier Hotel in Los Angeles in 1970 (which was also the same night Diana Ross made her farewell performance with the Supremes to start a solo career).
The argument began when Berry wanted to replace Jean Terrell (who was already chosen to take Diana's place as lead) with Syreeta Wright.
Finally deciding to put her foot down against Berry, Mary refused to let Syreeta take Jean's place which led to Berry stating that he was "washing his hands" of the group which resulted in Mary & Pedro trying to unsuccessfully manage the group & keep their career alive.
Mary decided to start a solo music career after all three of the members couldn't agree on the musical direction for the Supremes which left Scherrie & Susaye to try to find a replacement for Mary, but it was unsuccessful.
After leaving the Supremes, she became involved in a protracted legal battle with Motown over its management of the Supremes. After an out-of-court settlement, she signed a solo record deal with the label.
Marvin Gaye was supposed to produce Mary's album, but he was preoccupied with his divorce from Berry's older sister Anna Gordy at the time which left Mary to work with Hal Davis instead.
After the release of her debut album, Mary began working on her second solo album with English record producer Gus Dudgeon, but midway through the album's production, Motown Records dropped Mary from their roster in 1980.
Mary wouldn't release her second album "Walk the Line" until 1992.
Tracklist
Edit
"Red Hot"
"I've Got What You Need"
"You Make Me Feel So Good"
"(I Love A) Warm Summer Night"
"Pick Up The Pieces"
"You're The Light That Guides My Way"
"Midnight Dancer"
Chart Performance
Edit
The album was a commercial failure and did not chart on the Billboard 200.
Singles

| | | |
| --- | --- | --- |
| Singles | U.S. Billboard R&B | U.S. Billboard Dance/Club Play |
| Red Hot | #95 | #85 |
| Pick Up The Pieces | N/A | N/A |