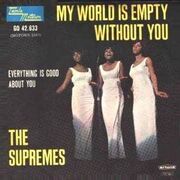 "My World Is Empty Without You" is a 1965 song recorded and released as a single by The Supremes for the Motown label.
Written and produced by Motown's main production team of Holland–Dozier–Holland, the song's slow tempo accompanies a somber lyric which delves into the feelings of depression which can set in after a breakup; instrumentally, this is showcased with in gothic and dramatic musical arrangement and use of harpsichord, in tow with the trend of baroque pop during the mid-1960s."My World Is Empty Without You" was one of the few songs written by the team for The Supremes that didn't go to number one, peaking at number five on the US pop chart for two weeks in February 1966[1] and at number 10 on the R&B chart; the single failed to chart on the UK Singles Chart. The group performed the song on the CBS hit variety program The Ed Sullivan Show on Sunday, February 20, 1966.
Cover versions and other uses
Edit
"My World Is Empty Without You" is sampled on MC Lyte's 1991 socially-conscious rap ballad "Poor Georgie," from the album Act Like You Know. The song is also sampled on J. Cole's "World is Empty" from his The Warm Up mixtape. The song was also released as a single by the band The Afghan Whigs, as noted below: [3] [4] All songs written and composed by Greg Dulli, except where noted.