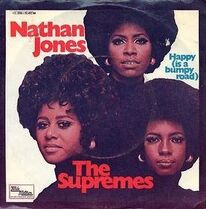 Nathan Jones is a single from The Supremes' 1971 album "Touch."
Produced by Frank Wilson and written by Leonard Caston and Kathy Wakefield, the song was one of eight Top 40 hits the Supremes recorded after Diana Ross left the group for a solo music career.
Song Background
Edit
The song centers around a woman's longing for her former lover, a man named Nathan Jones, who left her nearly a year ago "to ease [his] mind."
Suffering through the long separation ("Winter's past, spring, and fall") without any contact or communication between herself and Jones, the narrator is no longer in love with Jones, remarking that "Nathan Jones/you've been gone too long."
The Supremes' Version
Edit
"Nathan Jones" is an unusual entry among the Supremes' singles repertoire for several reasons, not the least of which is the fact that all three members of the group (Jean Terrell, Mary Wilson and Cindy Birdsong) sing the song's lead vocal in unison.
Clydie King was asked to sing along with the group to give the song a fuller vocal sound.
While working on the song, producer Frank Wilson had in mind a rock music style of phrasing for the song, resulting in the unison vocals. The unison vocals would repeatedly be dubbed to create a layered harmonic tone similar to that present in the production of vocal group ABBA.
In addition, Wilson had his engineer, Cal Harris use what can (now) be considered classic studio sensibilities to take The Funk Brothers' backing tracks for "Nathan Jones" and give them a phase shifting sound at various points during the song.
This was accomplished by either using a second recorder (as the Beatles would have done) or (less likely) an outboard processor such as the blue faced MXR flanger.
Chart Performance
Edit
Released as a single on April 15, 1971 (along with the song "Happy is a Bumpy Road" as the B-side), "Nathan Jones" peaked at number sixteen on the Billboard Pop Singles chart, number-eight on the Billboard R&B chart.
Overseas, the single went to number-five on the UK Singles Chart. "Nathan Jones" was the most successful single released from the "Touch" album.