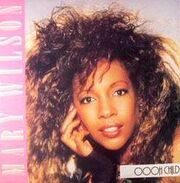 Although Wilson never recorded a full album for the "Motorcity" label, she did release two singles. The second of the two was her cover version of The Five Stairsteps' top ten 1970 hit "Oooh Child". A promotional music video was shot with Mary, her son, and her two background singers. Unfortunately, the single did not generate sales.
Ad blocker interference detected!
Wikia is a free-to-use site that makes money from advertising. We have a modified experience for viewers using ad blockers

Wikia is not accessible if you've made further modifications. Remove the custom ad blocker rule(s) and the page will load as expected.