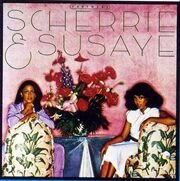 Partners is a 1979 album recorded by Scherrie & Susaye for Motown Records. Following the demise of The Supremes in 1977, former group members Scherrie Payne and Susaye Greene recorded this album together on the Motown label.
Both singers share songwriting duties as well as receiving associate producer credit for the album.
Legendary performer Ray Charles makes a guest appearance on the album on the song "Love Bug."
Joyce Vincent-Wilson (a candidate to replace original Supreme Mary Wilson when Payne and Greene were considering continuing with the Supremes name) is heavily featured on background vocals.
The song "Leaving Me Was the Best Thing You've Ever Done" was released as the album's only single.
Tracklist
Edit
Side One
Storybook Romance
Your Sweet Love
LuvBug
Leaving Me Was The Best Thing You've Ever Done
When The Day Comes Every Night
Side Two
In The Night
I've Found Another Love
You've Been Good To Me
Another Life From Now
Personnel
Edit
Scherrie Payne - Lead vocals, background vocals, associate producer
Susaye Greene - Lead vocals, background vocals, associate producer
Eugene McDaniels - Executive Producer
Ray Charles - special guest vocals on "Love Bug"
Ed Brown - Background vocals
Roy Galloway - Background vocals
Carmen Twillie - Background vocals
Joyce Vincent - Background vocals
Venette Gould - Background vocals
Jim Gilstrap - Background vocals
Bill Champlin - Background vocals
Allen L. Greene III - Background vocals
Kathy Collier - Background vocals
Paulinho Da Costa - percussion
Steve Schaeffer - drums