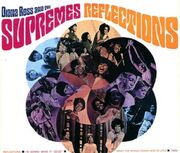 Reflections is an album by Diana Ross & the Supremes. It was released on March 25, 1968 by Motown.
It was the first regular studio LP to display the new billing of the group formerly known as "The Supremes."
It contains the singles "Reflections", "In and Out of Love" and "Forever Came Today."
Also included on the album are covers of songs made famous by Martha and the Vandellas ("Love (Makes Me Do Foolish Things)") and The 5th Dimension ("Up, Up and Away").
Also present are songs written by other famous names, including "Bah-Bah-Bah" co-written by Motown songstress Brenda Holloway with her younger sister, Patrice, an original Smokey Robinson composition titled "Then" and "What the World Needs Now Is Love" by Burt Bacharach and Hal David, which Motown planned to release as a single in the spring of 1968, but cancelled.
It also contains a cover of Bobbie Gentry's song "Ode to Billie Joe" (whose original recording kept the single "Reflections" from peaking at the top spot on the Billboard Hot 100 in September 1967 and it hit #2 on Cashbox.)
Tracklist
Edit
Side One
I'm Gonna Make It (I Will Wait For You)
I Can't Make It Alone
In & Out of Love
Bah-Bah-Bah
What The World Needs Now Is Love
Up, Up and Away
Then
Misery Makes Its Home In My Heart
Ode To Billie Joe
Personnel
Edit
Diana Ross - Lead Vocals
Mary Wilson - Background vocals
Florence Ballard - Background vocals
Cindy Birdsong - Background vocals
The Andantes (Marlene Barrow, Louvain Demps, Jackie Hicks)- Background vocals
Brian Holland, Lamont Dozier - Producers
Smokey Robinson - Producer on "Then" and "Misery Makes Its Home In My Heart"
Chart History
Edit
Name
Chart (1968)
Peak Position
Reflections
U.S. Billboard Hot 100
#18
U.S. Billboard R&B Albums
#3
U.K. Albums Chart
#30
Name
Chart (1967-1968)
Peak Position
Reflections
U.S. Billboard Hot 100
#2
U.S. Billboard R&B Singles
#4
U.K. Pop Singles
#5
In & Out of Love
U.S. Billboard Pop
#9
U.S. Billboard R&B Singles
#16
U.K. Pop Singles
#13
Forever Came Today
U.S. Billboard Hot 100
#28
U.S. Billboard R&B Singles
#17
U.K. Pop Singles
#28