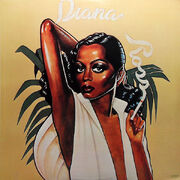 Ross is Diana Ross' 8th studio solo album. The album was released on September 3, 1978 by Motown Records.
The album was a mixture of older tunes Diana recorded along with newer recordings.
Side A consists of four tracks recorded in 1978 and Side B consists of material recorded between the years 1971 and 1975, but they were remixed and/or extended by Motown in-house producer Russ Terrana specifically for the album.
The album was mixed and mastered at Motown Recording Studios in Hollywood, California.
Tracklisting
Edit
Side A
Lovin', Livin' and Givin' (5:11)
What You Gave Me (4:57)
Never Say I Don't Love You (3:50)
You Were the One (4:01)
Side B
Reach Out (I'll Be There) (5:30)
Where Did We Go Wrong (4:24)
To Love Again (4:04)
Together (3:31)
Chart Performance
Edit
"Ross" peaked at #49 on the Billboard Hot 100 and #32 on Billboard's Black Albums chart. The album failed to chart in the UK.
Album Personnel
Edit
Berry Gordy – executive producer
Suzee Wendy Ikeda – producer assistant
Russ Terrana – mix
Jack Andrews – mastering
Rickey Ricardo Gaskins – artwork (illustration)
Brenda Boyce – art direction
Tony Jones – art direction