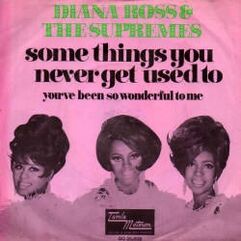 Some Things You Never Get Used To is a song from Diana Ross & the Supremes' album "Love Child."
The single was released on May 21, 1968 by Motown Records. It stalled for three weeks at number 30 on the U.S. Billboard pop chart in July of 1968.
It became the lowest-charting Supremes single since 1963 and became the catalyst for Berry Gordy to revamp songwriting for The Supremes since the loss of Motown's premier production team Holland–Dozier–Holland whom Gordy had assigned as the group's sole producers after the success of "When the Lovelight Starts Shining Through his Eyes."
Motown originally created an album based around the single, but when it failed to hit the top of the charts, the album was scrapped.
Chart Performance
Edit
Chart
Peak
position
U.S. Billboard Hot 100
30
U.S. Billboard R&B Singles Chart
43
U.S. Cash Box Pop Singles Chart
22
UK Singles Chart
34