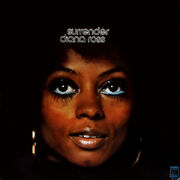 Surrender is Diana Ross' third solo album. The album was released on July 6, 1971 by Motown Records.
Album Background
Edit
Diana's previous album "Everything Is Everything" failed to generate interest due to Motown's rush and hurried efforts to further her solo career and did not chart as highly as expected.
The album was a commercial and critical success. It would be Diana's final studio album until the "Touch Me in the Morning" album two years later.
In the interim between the albums, she achieved Motown's goal of becoming a star thanks to her starring role in the 1972 Billie Holiday biopic "Lady Sings the Blues."
Tracklisting
Edit
Side A
Surrender (2:53)
I Can't Give Back the Love I Feel For You (3:16)
Remember Me (3:16)
And If You See Him (2:50)
Reach Out (I'll Be There (4:50)
Side B
Didn't You Know (You'd Have to Cry Sometime) (2:56)
A Simple Thing Like Cry (2:56)
Did You Read the Morning Paper? (3:53)
I'll Settle for You (2:58)
I'm a Winner (3:05)
All the Befores (4:35)
Chart Performance
Edit
The album charted at #56 in America and #10 in the UK which earned a silver disc for UK sales in excess of 60,000 copies.
Ad blocker interference detected!
Wikia is a free-to-use site that makes money from advertising. We have a modified experience for viewers using ad blockers

Wikia is not accessible if you've made further modifications. Remove the custom ad blocker rule(s) and the page will load as expected.