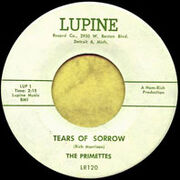 "TEARS OF SORROW": Written by Rich Morrison, "Tears of Sorrow" was the only single that was released by The Supremes while they were still operating under the moniker, "The Primettes." The A-side of the record was led by Diana (then Diane) Ross while its flip side, "Pretty Baby" was led simultaneously by Mary Wilson and Florence Ballard. Following its completion, the record was released from Detroit's Lupine label in 1960.
In her 1986 autobiography, "Dreamgirl, My Life As a Supreme" Mary Wilson claimed that she had thought that "Pretty Baby" would be the hit from those sessions. However, they were all surprised when the record neither took off nor charted.
Ad blocker interference detected!
Wikia is a free-to-use site that makes money from advertising. We have a modified experience for viewers using ad blockers

Wikia is not accessible if you've made further modifications. Remove the custom ad blocker rule(s) and the page will load as expected.