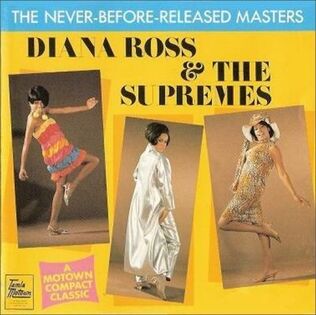 The Never-Before-Released Masters is a compliation album by The Supremes. It is the second CD release of unreleased recordings (the first disc being the two-disc album "25th Anniversary").
The album was released on July 1, 1987 by Motown Records & produced by George Solomon. It contains unreleased recordings from 1961 to 1969.
A majority of the songs on the album were from the unreleased album "Diana Ross & The Supremes Sing Disney Classics."
Album Background
Edit
Mary Wilson & Florence Ballard are featured with lead vocals on two songs on the album. Mary provides lead vocals on the songs "Our Day Will Come" & "The Ballad of Davy Crockett."
Florence provides lead vocals on the songs "Save Me a Star" & "Silent Night."
Tracklisting
Edit
Sweet Thing
It's Going All The Way (To True Love)
A Little Breeze
Am I Asking Too Much
Stormy
Slow Down
Don't Let True Love Die
Too Much A Little Too Soon
Too Hurt To Cry, Too Much In Love To Say Goodbye
Can I Get a Witness
Come Into My Palace
I'm The Exception To The Rule
Our Day Will Come
Save Me A Star
Mr. Blues
Little Miss Loser
Fancy Passes
The Ballad Of Davy Crockett
Supercalifragilisticexpialidocious
Whistle While You Work
I've Got No Strings
A Dream Is A Wish Your Heart Makes
The Land Of Make Believe
Toyland
It Won't Be Long Til Christmas
The Christmas Song
Silent Night
Album Personnel
Edit
Diana Ross - lead vocals and background vocals
Mary Wilson - lead vocals and background vocals
Florence Ballard - lead vocals and background vocals
Cindy Birdsong - background vocals
Barbara Martin - background vocals
The Andantes - background vocals
Ad blocker interference detected!
Wikia is a free-to-use site that makes money from advertising. We have a modified experience for viewers using ad blockers

Wikia is not accessible if you've made further modifications. Remove the custom ad blocker rule(s) and the page will load as expected.