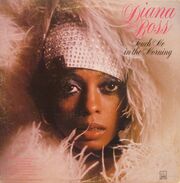 Touch Me in the Morning is Diana Ross' fourth solo album. The album was released on June 22, 1973 by Motown Records.
Tracklisting
Edit
Touch Me in the Morning (3:26)
All of My Life (3:31)
We Need You (3:44)
Leave a Little Room (3:37)
I Won't Last a Day Without You (3:49)
Little Girl Blue (3:58)
My Baby (My Baby, My Own) (3:01)
Imagine (3:01)
Medley: Brown Baby\Save the Children (8:17)
Chart Performance
Edit
Year
Album
Chart positions
Billboard 200
R&B Albums
1973
Touch Me in the Morning
5
1
Ad blocker interference detected!
Wikia is a free-to-use site that makes money from advertising. We have a modified experience for viewers using ad blockers

Wikia is not accessible if you've made further modifications. Remove the custom ad blocker rule(s) and the page will load as expected.