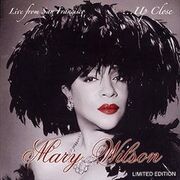 LIVE FROM SAN FRANCISCO...UP CLOSE: Mary Wilson's latest CD; a live recording of her current cabaret-styled show of old sophisticated pop and soul standards. Available exclusively through her website, the album's track-listing featured the tracks "I Am Changing," "Tears In Heaven," and one Supremes track 1965's "My World Is Empty Without You" {2007}
Tracklist
Edit
"Here's To Life"
"Smile"
"Body & Soul"
"I Believe In You & Me"
"Spring Is Here"
"Fields of Gold"
"I Remember You"/"The Girls from Ipanema"/"Mas Que Nada"
"New York State of Mind"
"Don't Know Why"
"My World Is Empty Without You"
"Tears In Heaven"
"I Am Changing"
"Both Sides Now"
"What A Wonderful World"
Personnel
Edit
Mary Wilson - vocals
Ray Parnell - guitar and vocals
Daniel Fabricant - acoustic bass
Production Credit
Edit
Mary Wilson - Executive Producer
Ad blocker interference detected!
Wikia is a free-to-use site that makes money from advertising. We have a modified experience for viewers using ad blockers

Wikia is not accessible if you've made further modifications. Remove the custom ad blocker rule(s) and the page will load as expected.