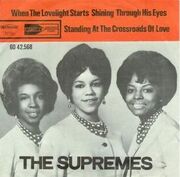 "When the Lovelight Starts Shining Through His Eyes" is a song written by Holland–Dozier–Holland and recorded in 1963 by Motown singing group The Supremes. It is notable as the Supremes' first Billboard Hot 100 Top 40 recording, following seven previous singles between January 1961 and September 1963 which failed to enter the Top 40. The single is also notable as the first Supremes single written and produced by Holland–Dozier–Holland, who had previously created hits for Martha and the Vandellas and Mary Wells.
Recording
Edit
By 1963, the Supremes were struggling to find a pop hit. Until then, the Supremes was a regional R&B favorite, with their most successful single being "A Breathtaking Guy", which peaked at number 75 on the Hot 100. The group's competitors inside Motown included The Marvelettes, Motown's first successful female group, but also with Martha and the Vandellas, whose early hits included "(Love Is Like A) Heat Wave" and "Quicksand".Struggling to find producers who could give the Supremes a successful hit after both he and Smokey Robinson had failed, Motown CEO Berry Gordy decided to have the team of Holland–Dozier–Holland, who would end up being the dominant songwriting and producing team of Motown, produce a song for the Supremes. "Lovelight" would eventually be released after Gordy's Quality Control Department approved of the song.
Reception
Edit
Released in on October 31, 1963, "When the Lovelight Starts Shining Through His Eyes" was the Supremes' first Top 40 pop hit since signing with Motown in 1961. Eventually reaching number 23 on the Billboard Hot 100 and number 2 on the Cash Box R&B chart, Gordy decided to have Holland-Dozier-Holland on board as the group's sole producers from then on. After the unsuccessful rush-release of the Phil Spector-inspired "Run, Run, Run", the Supremes would eventually eclipse their female peers after releasing "Where Did Our Love Go" in the summer of 1964.